SFA
-
Youth
Futsal
League's
2016/17
Information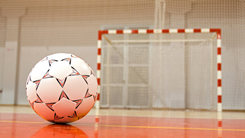 Suffolk FA are pleased to announce that after the success of last year's project, our Youth Futsal League's will be returning across Suffolk for the 2016/17 season. The leagues will take place in Ipswich, Lowestoft and Bury St Edmunds and will be delivered in 3 x six week blocks across the course of the season.
Futsal is an adapted indoor version of football which uses a heavier ball and smaller pitch, giving players over twice as many touches of the ball and encouraging faster decision making in players. Players such as Cristiano Ronaldo and Lionel Messi have recognised futsal as a key contributing factor towards the development of their technical ability and first touch. Our futsal leagues are designed to complement a grassroots team's existing training session and aims to provide Suffolk's U9 and U10 teams with the opportunity to experience this fast-paced, dynamic and an exciting indoor version of the game.
Please find some more details each of our leagues below:
Ipswich League
Day: Mondays
Venue: Suffolk One, Scrivener Dr, Ipswich IP8 3SU
Time: 17:00 – 19:00
Session: 19th Sept, 26th Sept, 3rd Oct, 10th Oct, 17th Oct, 31st Oct
Bury St Edmunds League
Day: TBC
Venue: Howard Primary School, Beard Rd, Bury Saint Edmunds IP32 6SA
Time: 17:30 – 19:30
Session: TBC (sessions will begin w/c 3rd October and run for six weeks)
*More information on the Bury league will be released shortly
Lowestoft League
Day: Fridays
Venue: East Point Academy, Kirkley Run, Lowestoft NR33 0UQ
Time: 18:00 – 20:00
Session: 23rd Sept, 30th Sept, 7th Oct, 14th Oct, 21st Oct, 4th Nov
The cost of the league will be £18 per team each week with a £10 one off registration fee for teams for the season. The leagues are open for teams playing within the U9 and U10 age groups for the 2016/17 season.
Please find some more information on futsal click here for a short video on the rules of Futsal.
If you are interested in being involved in one of our youth leagues, please completed and return the attached registration form no later than Friday 9th September. Please note that due to limited availability places will be allocated on a first come, first served basis.
Kind regards
Jodie Allard
Mini Soccer & Youth Football Development Officer | Suffolk FA
Suffolk FA, The Buntings, Stowmarket, Suffolk, IP14 5GZ
T 01449 776311 | E Jodie.Allard@Suffolkfa.com | M 07432735961