SFA
-
4
x
4
Festivals
U7
to
U10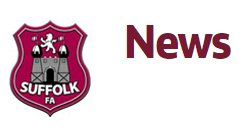 Suffolk FA are pleased to announce that we are working with Ipswich Town FC and our youth leagues to provide a series of festivals for grassroots clubs next season.
These events will be delivered as 4v4 festivals on the 3G Practice Pitch outside of Portman Road and will be free for all clubs to enter. The dates of the festivals for SYFL teams are as follows:
U7 Festival – Saturday 3rd September
U8 Festival - Saturday 10th September
U9 Festival – Saturday 24th September
U10 Festival – Saturday 15th October
In support of this programme each of our youth leagues have scheduled a break in fixtures on these dates so that all teams can enter into the festivals.
I will be in touch with teams with more details closer to the time but please keep these dates in the diary for now.
Kind regards
Jodie Allard
Mini Soccer & Youth Football Development Officer | Suffolk FA
Suffolk FA, The Buntings, Stowmarket, Suffolk, IP14 5GZ
T 01449 776311 | E Jodie.Allard@Suffolkfa.com | M 07432735961